Krakow Balice Airport Transfer
A secure, comfortable way to get to and from the airport. Set an appointment and feel sure you be right on time!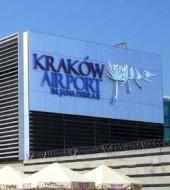 No more worries on how to get into the city from the airport, our brand new private transfer service will safely and easily bring you to your destination in the city, and the way back the day of your departure.
Our cars allow you to arrive to your hotel thanks to a comfortable ride, and the knowledge that our driver.
We provide transfer from following airports near Krakow:
Krakow Balice Airport
Katowice Airport
We offer following vehicles for transfer:
Car: upto 4 persons
Minivan: upto 8 persons
The ticket will be sent within 24 hours in a seperate e-mail.

Tickets will be sent via e-mail!